Trucks are made to play rough. But let's face it, those bumpers that came with your pickup -- they're…well, they're soft. One little bump and there's ugly damage. You need to dress that truck with a rugged heavy-duty steel bumper to protect your investment. Pickup Outfitters of Waco carries a complete line of heavy duty bumper replacements for Chevy, Ford, Dodge Ram, GMC, Toyota and Nissan pickup trucks.
And work trucks? You don't even need to have those soft factory bumpers on the work site. Outfit your work truck with a heavy-duty steel bumper that can handle the bumps and bruises and keep on going.
---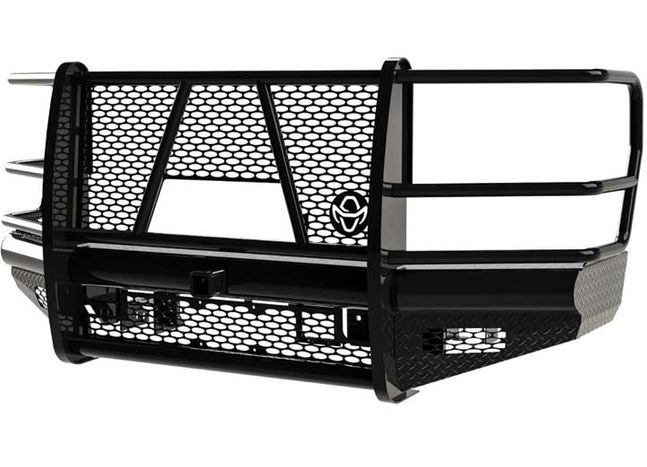 Ranch Hand Legend
Ranch Hand Legend front bumper replacement with full grille guard. Accomodates front camera and adaptive cruise control.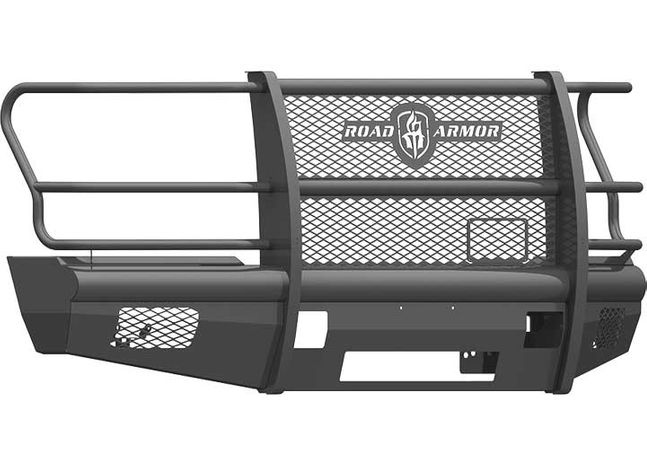 Road Armor Vaquero
Road Armor Vaquero front bumper replacement with full grille guard. Comes with a textured, matte-black powder coat finish for durability and a rugged look.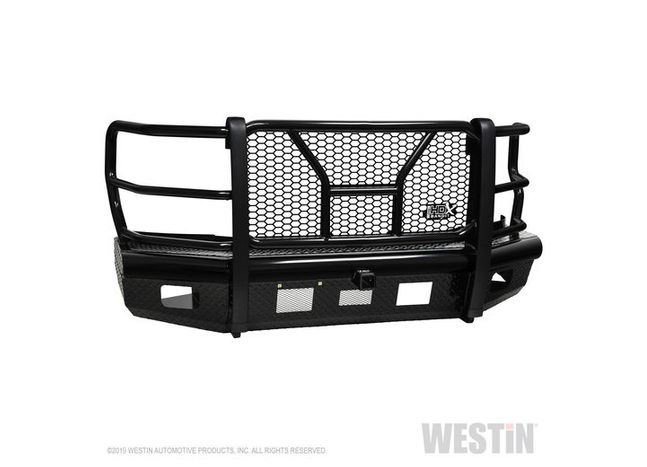 Westin HDX Bandit
Westin HDX Bandit front-end replacement bumper with full grille guard. This great-looking bumper has a cutout to accommodate a front camera and sensor plugs. Also includes a front receiver hitch.
Pickup Outfitters of Waco has one of the biggest selections of bumper replacements for your truck. Protect your underdressed truck up front with a bumper replacement from major manufacturers like Ranch Hand, Cattleman, Frontier, Roughneck, Fab Fours, and Iron Cross. Adding a heavy duty bumper replacement not only provides your ride with front-end protection; it allows you to mount fog lights, winches and other accessories.
Make a statement and tell the Waco area YOU want to end full frontal truck nudity with new bumper replacements.
Pre-runner (Bull Nose) Front Bumper replacements have a bull bar or push bar welded onto the front for additional strength and support or for mounting lights. Push bar bumpers can be ordered with an optional winch mount.
Front-end Replacement Bumpers – The best of both worlds, a sturdy bumper and grill guard all in the same piece.
Rear Bumper – Protect your rear-end from idiots who run into you from behind. Or when your spouse (but certainly not you) accidentally backs up in that unseen 16 foot pole. Available in wrap around, diamond plate and pipe series, compatible with hitches.
Base Bumper replacements look similar to stock bumpers but are durable and stronger than most factory bumpers. They are typically contoured to the lines of your truck and don't have a grille guard or push bar attached to them.
Heavy-duty bullnose bumpers fit the lines of your vehicle and give a unique off-road look to the front of your truck. The bullnose replacement bumper is usually reinforced and a bit stronger than base or aluminum bumpers.
Ranch Style Bumpers are heavy-duty bumpers of diamond plate steel. These bumpers are hand welded inside and out for maximum front-end protection. This is the toughest replacement bumper you can get for your pickup truck.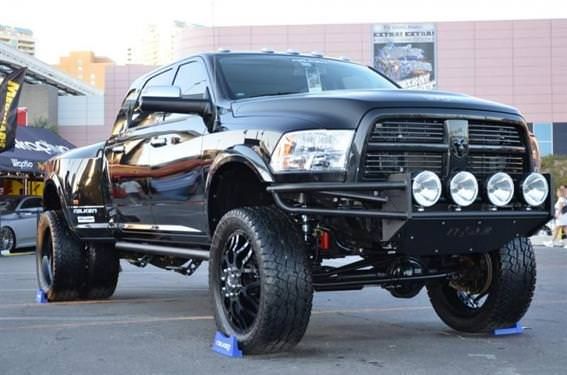 Bumper with Lights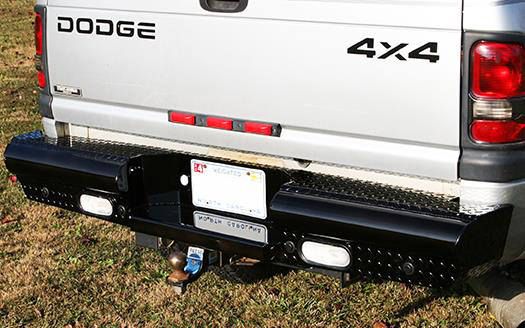 Rear Bumper Diamond Plate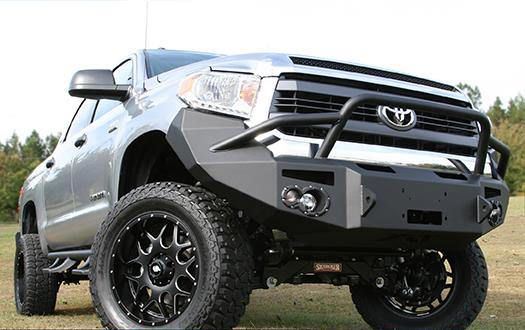 Bull Nose Front Bumper w/ Winch
Do your part to end truck nudity, one vehicle at a time! Create a commotion with heavy-duty bumper replacements from Pickup Outfitters of Waco, Texas. Call us now at 254 399-9416.