PICKUP TRUCK CAPS - CAMPER SHELLS - TOPPERS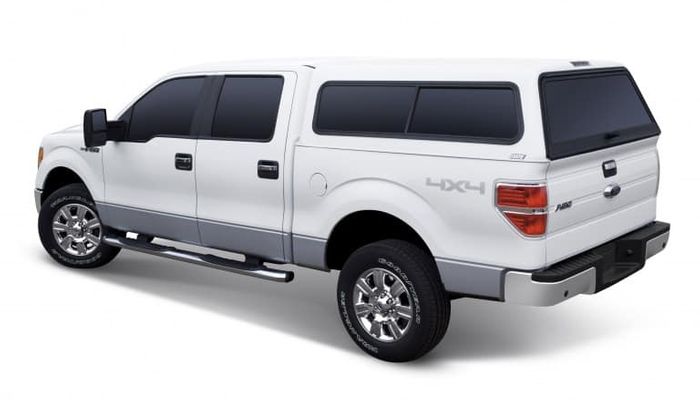 There may not be a more valuable accessory you can add to your pickup than a truck cap, commonly known as a "camper shell" or "truck topper." It's like doubling the square footage of your bed, more than doubling actually, while enhancing the looks of your pickup. It's a pretty sweet outfit, and definitely a major weapon against truck nudity.
ARE Dealer
Pickup Outfitters of Waco is the authorized ARE dealer (pronounced A-R-E, like someone's initials) for Waco and Central Texas. We carry a full line of their beautiful, paint-to-match, made-to-order fiberglass truck caps as well as their commercial aluminum DCU units for work trucks. Each fiberglass truck cap is made-to-order when you buy it, with the specific options you choose.
All caps are made to fit your specific vehicle within a range of a few model years. For example, Ford F-150 short beds, from 2015-2019. They are not interchangeable between the different makes, for example, a Ford F-150 cap will not fit on a Chevy, and it will not fit a 2014.
Each unit is painted to match your trucks factory paint color at ARE's modern plant in Ohio. We get your truck's paint code at the time of purchase and that color is matched at the factory.
ARE truck caps come with a lifetime warranty on the unit and the paint. Hardware warranty can be anywhere from two to five years. Every ARE unit purchased and installed with Pickup Outfitters comes with our free warranty assistance and lifetime installation guarantee.
The Pickup Outfitters Difference
We have been selling and installing truck caps since 1997, and we know what we're doing. Yes, that's bragging, but we earned the right. And we back up that bragging with the Pickup Outfitters promise:
No-Hassle, Lifetime Installation Guarantee: Every truck cap purchased and installed at Pickup Outfitters comes with our lifetime installation guarantee. For as long as you own your truck, if your cap needs to be adjusted, re-clamped, starts leaking….whatever, just bring it back to us and we take care of it. No hassle, no charge if it's installation related.
Free Warranty Assistance: Every truck cap purchased and installed at Pickup Outfitters comes with our free warranty assistance. If there are any warranty issues with your cap, you just bring it back to us, and we take care of it, no charge if it's covered under warranty.
Buying and installing with Pickup Outfitters gives you confidence and peace of mind that you will have the support you may never need, but is always there, for as long as you own your truck.
ARE vs. Leer
You may be comparing ARE products versus Leer, and here are a few things to think about:
ARE has a true, lifetime paint warranty. Leer's warranty is lifetime paint, but only a 5-year clear coat warranty. Which can make warranty claims with a Leer more difficult because if there is a paint issue, there is likely a clear coat issue. With ARE, there is no distinction, it's all paint.
ARE uses a heavier (sturdier) rear door, Leer uses lighter duty door on their fiberglass caps.
ARE uses a proprietary honeycomb roof system, while Leer's uses a flat cardboard roof system.
Models Available
We have several different ARE models to choose from. Model availability is based on your truck, not all models are available for all trucks. It's best to call us or come by our showroom to see which models are available for your truck.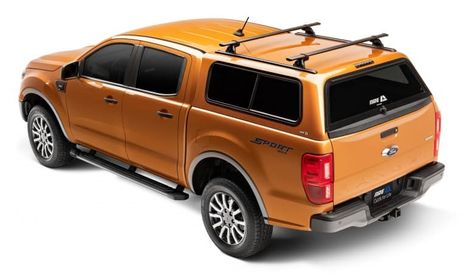 The V (Value) series is clean. For when you don't need to make too big of a statement, but still stand out, this is the choice for when you don't want to sacrifice style for cost.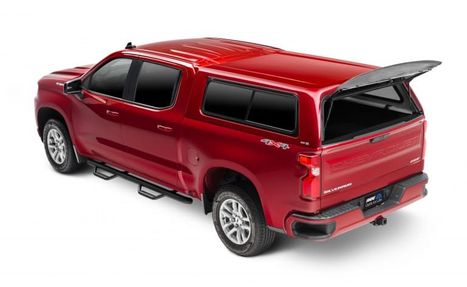 The CX Evolve is something special. It has a curved tailgate door, giving it this distinguished look without any extra bulk. Along with half slider windows and other bells and whistles, this cap is sure to stand out.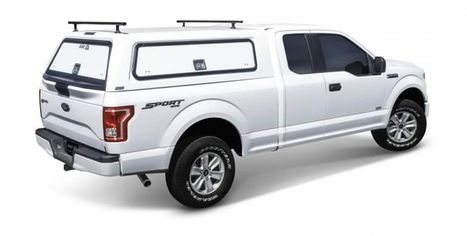 The HD series comes in both CX and MX flavors - giving you the power to choose. It features an internal skeleton, tripling the weight capacity of the roof and side toolboxes. If you're in need of pushing your truck to the limit, this is for you.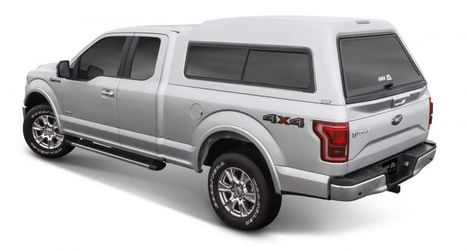 The MX series gives you the headroom you need for those heavy-duty hauls. Your head will thank you for when you need to jump on the tailgate and reeaachh back there, behind all the other stuff you got going on. Plus, it just stands out.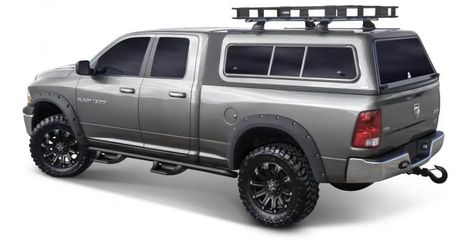 The Overland series is the prime example of rugged. They're a two-toned off-road design, with spray-on coating that protects it from anything thrown at it. As you can see, it goes well with other muscle on your truck such as fender flares.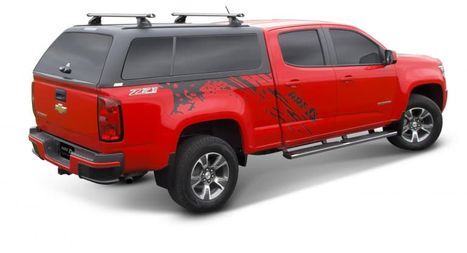 The Z series is designed to be the best fit and styling. It gives your truck this sleek SUV style, while having the function of any other ARE cap.
FAQ's: The Frequently Asked Questions
What are the benefits of a truck cap?
You get covered room above the bed, it adds height and storage room to your bed.
Looks terrific
Protects expensive possessions
Can be used for camping.
Is a truck cap right for you?
A cap is a lifestyle addition to your truck. Great if you need extra storage for frequent trips and vacations. Great for outdoorsman for fishing and hunting gear.
Secure storage for valuables
Great for taking dogs on trips and hunting.
Gives you dry storage
It looks great!
A cap is great for work trucks who need more room for tools and equipment.
Is it Not for you?
If you want to maintain that truck look, a tonneau bed cover would be a better option
It can limit the height volume of some trucks. If you want to haul something taller than your cab, it will limit what you can put in the bed.
How much do truck caps cost?
Like most things, there is a wide variety of prices depending on the model and features you want. The range of prices will be somewhere from about $1700 - $2700 for most models without options. There are different promotions just about every month offering rebates or coupons for free options. Be sure to ask about those when you call us or come by our showroom.
Important things to consider
Which window configuration is right for you? There are several side window options.
Lighting: do you need it, what kind of lighting do you need?
Roof Rack – Will you ever want to mount anything on the top of your cap? Ask about roof options.
Front window options: This is HUGE. Will you want to wash the front of your cap or window with a drop down window? Do you have a sliding rear windshield in your truck? Will you have dogs riding in the back?
Can you really camp in them?
You sure can! Part of that depends on the size of your bed and whether or not you can stretch your legs out when you sleep. There are a couple of really cool accessories you can add to your ARE truck cap to really kick your camping up a notch:
The Topper EZ Lift system lifts your cap off your bed, allowing for more headroom, and that means you can add a…
Tent! TopperEZ offers weekender pop out tent for camping, and a contractor package for work trucks! Raise the roof of your cap, then add a tent, and you can camp in your truck!
Add the Airbedz truck bed air mattress that custom fits in your bed around the wheel wells
Are truck caps an investment?
Not really, it's an addition for convenience and lifestyle but rarely will you sell it for more later on.
Can I install the cap?
Most likely, no. There is knowledge needed to install it properly. You need to know things like proper cap placement, wiring, taping and clamping. These are not mud flaps, you don't just throw it on.
Can negate the warranty if you damage the cap during install or install it improperly.
If you install yourself, you are responsible for all warranty and installation issues.
How long does it take to get one?
Due to the residual effects of COVID to the supply chain and a resin shortage, ARE says it will take from 15-17 weeks to get a fiberglass truck cap, and 5-7 weeks to get an aluminum truck cap.
What about buying a used cap?
When you are looking at used, the most important thing is the structure. Look for cracks and signs of the windows leaking such as black streaks between frame and cap. Also remember that these caps are made for specific vehicles. That means the same make and model within a specific model year range (see below)
I saw this truck cap on Craigslist / Ebay / Facebook, will it fit my truck?
Unless your truck is pre-90's nothing cross-fits. There will be safety issues, fit issues, and water-tightness. Caps are not interchangeable between makes (Ford to a Chevy), models (F-150 to F-250), year range (2018 Chevy 1500 to 2019)
Every shell is molded specifically for each truck, even if bed size is the same, cab differences will prevent cross fit.
Each cap is made specifically for year, make and model. If you have a question about whether or not it will fit, call us or come by our showroom. Don't take the seller's word for it. Every ARE has a unique serial number that we can look up in our data base. We have seen many disappointed customers who told us "but the guy said it came off…" Call us first: 254-399-9416