TONNEAU BED COVERS FOR YOUR TRUCK
TONNEAU BED COVERS
THE LARGEST SELECTION
It's time to cover up that bare bed. And Pickup Outfitters is the place to get it right, with the largest selection of covers from the all the major manufacturers like Undercover, Extang, BAK, Access, Roll-N-Lock, Retrax, Truxedo, Leer and more.
Folding, rolling, retractable, lid style, soft, hard; we have them all. Stop by our showroom to check out our displays and pick the right bed cover for your truck.
All covers purchased and installed at Pickup Outfitters come with our famous free warranty assistance and lifetime installation guarantee.
Call us to get your bed covered: 254-399-9416
What about security? Before we get into the different types of pickup bed covers, let's answer the most common question: Are these covers secure? The answer is "mostly." Almost all bed covers cannot be opened unless you open your tailgate. So, if you keep your tailgate locked, the cover cannot be opened without going to a lot of trouble and force.
The exception is soft covers. A soft cover, of course, can be cut through. If you are worried about valuables in your bed, you probably want to go with a hard, or solid, cover.
Retractable bed covers are hard covers that easily roll up into a canister near the cab of the pickup truck bed, making them extremely easy to use and get out of the way. Some also come with key locks and even remote control power! The most popular models are the Roll-N-Lock, Retrax, and Pace Edwards. The advantage of a retractable cover is that it can be operated totally from the tailgate, without having to walk along the side of the truck to open the bed. One thing to consider with a retractable bed cover is the size of the canister; you do lose some bed space near the cab.
Single Piece Lid-Style bed covers are are single-piece and hinged at the front of the truck bed giving you quick and easy access. These covers are lifted from the tailgate of your truck like a lid. They are usually black, but some come painted to match your truck color, and all are lockable with a key. The most popular the Undercover series of lids and ARE LSII and LSX Ultra.
Folding covers are manufactured into two or more panels, usually three, that fold up onto one another for quick and easy access to your truck bed. The most popular are the Undercover UltraFlex and ArmorFlex and the BakFlip G2 and MX4.
Hard rolling bed covers can be made from soft or hard materials such as industrial-grade vinyl or aluminum slats covered by vinyl or durable cloth. The cover is attached to your truck using a rail system. Some covers use a hook & loop (sometimes known as velcro), some use a channel sealing system, and a few use snaps to keep the elements out of your bed. The most popular roll-up covers are Truxedo TruXport, the Truxedo LoPro, theTruxedo Sentry, and the BAK Revolver.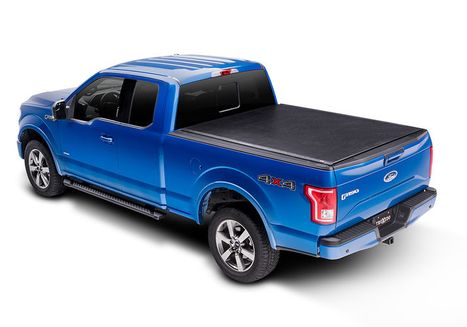 Low profile bed covers add a streamlined look to your pickup truck bed. One best-seller is the Truxedo LoPro.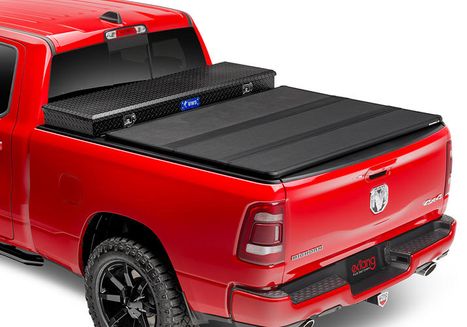 Toolbox bed covers give truck owners the versatility for hauling tools and supplies from one jobsite to another without damaging the bed. And makes your truck look like it's dressed for hard work!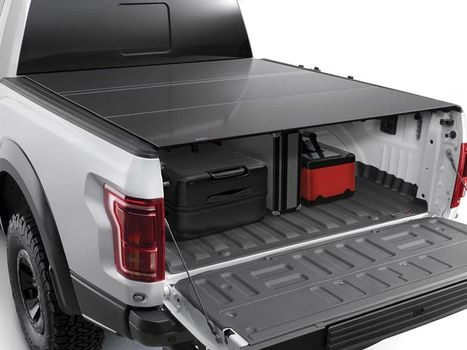 Hard bed covers are manufactured from aluminum, fiberglass or durable plastics. They are available in hinged, folding or retractable configurations and offer the best security for your cargo.
Locking bed covers increase the security of your truck bed by providing you with a locking mechanism built into the cover.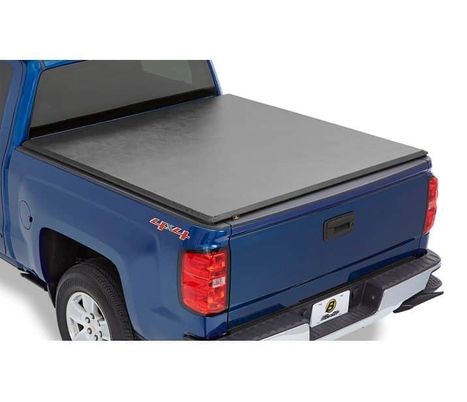 Soft bed covers are durable vinyl or coated fabrics. Dress your truck with a more affordable than hard tonneau covers.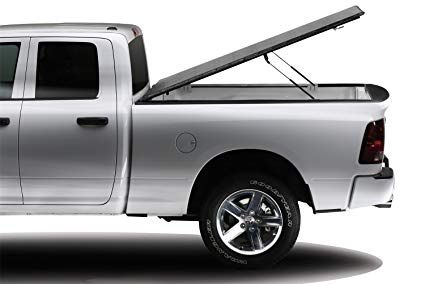 Snapless bed covers use alternative attachment systems, such as hook and loop, to secure the tarp on the truck bed frame.
Snap bed covers. The classic original cover features a snap design to secure the soft cover onto the pickup bed frame.
Do your part to end truck nudity! Create a commotion with bed covers from Pickup Outfitters of Waco, Texas, where we'll never make you pronounce the word "Tonneau." Call us now at 254 399-9416.