CUSTOM FIT FLOOR MATS AND FLOOR LINERS
GET CUSTOM PROTECTION, LOOKS AND FIT DRESS UP THAT INTERIOR. HIT THE MAT.
It's pretty clear that the factories intended for you to replace those floor mats. Why else would they put something so wimpy on the floorboards of your truck? No worries, we have the protection you need at Pickup Outfitters. They are custom fit floor liners from Husky and Weather Tech. Whether you're a hard-working contractor beating up your floor boards, shuttle kids to soccer tournaments all over creation, or just prone to spilling crud, we've got a mat for all models of trucks, SUVs, vans, even cars.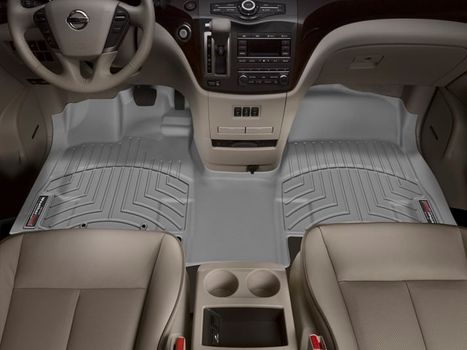 WEATHERTECH® LASER-MEASURED FLOOR LINERS
Pickup Outfitters of Waco is a Weather Tech Diamond Dealer. Get a perfect custom fit with Weather Tech's laser-measured floor liners for almost any make and model of truck, SUV, van or car. They are available in black, tan, cocoa and gray for the front, second, and even third row, with one-piece piece design for second and third rows, and even over-the-hump mats for the front seat (subject to availability for your particular model).
Also check out the newest product from WeatherTech, the HP High-Performance floor liner with a high-walled design for greater protection.
And of course, all MADE IN AMERICA.
Now, get your WeatherTech floor liners delivered right to your door free during business hours, usually the next business day. Call Pickup Outfitters for details. 254-399-9416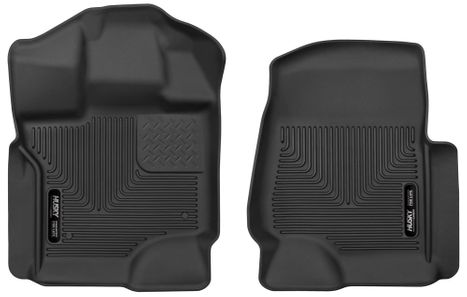 HUSKY X-ACT CONTOUR FLOOR LINERS
Husky liners are rugged, sporty and perfectly match the contour of your truck. They're also thick and pliable to add comfort to your feet during the long-haul drives. Whether you need something tough and reliable, or just something that looks sharp while protecting your floor from all the junk on your boots, Husky has your floor boards covered. Pickup Outfitters carries the complete line of Husky X-ACT Contour© and Weatherbeater™ for the front seat, rear seat, and cargo area custom fit for your vehicle.
And now, have those Husky Floor Liners delivered free right to your door during business hours, usually the next business day. Call Pickup Outfitters of Waco for details: 254-399-9416
FLOOR MATS AND CARGO LINERS
What about good old-fashioned floor mats? Got 'em. Rugged, tough rubber mats for work trucks and contractor vehicles. Toss out the cheap factory mats and get some real protection.
We have floor mats and liners for: Chevrolet, GMC, Ford, Ram, Jeep, Toyota, Nissan, Honda, Buick, Audi, Cadillac, Hyundai, Kia, Mercedes, Mitsubishi, Mazda, Volvo and more.
And don't forget the cargo mat for the cargo area of your SUV and Crossover. Both Husky Liners and WeatherTech have a full product line of cargo mats.
Do your part to end truck bed nudity, one vehicle at a time! Create a commotion with truck bed liners, spray-in truck bed liners, and bed mats from Pickup Outfitters of Waco, Texas. Stop by our showroom at 220 Lake Air Drive in Waco or call us at 254 399-9416.