STEP BARS, NERF BARS & RUNNING BOARDS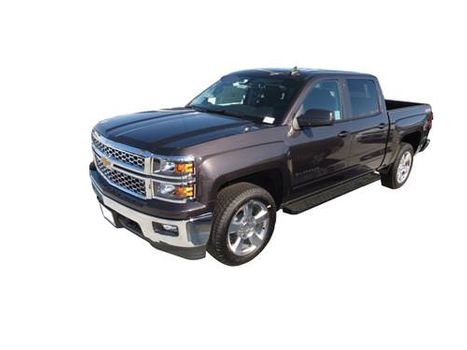 Today's pickup trucks are big. Put a step in your pickup!
Man-size trucks need a man-size step up into the cab. Make your entry smooth and easy by putting some step bars or running boards on that truck, SUV or van. These aren't just for you. Make it easy for your spouse, kids, and even grandkids to climb in and get going. And the best part, they're affordable! Our popular black step bars are only $394 installed at Pickup Outfitters in Waco.
Let no truck run around town without steps!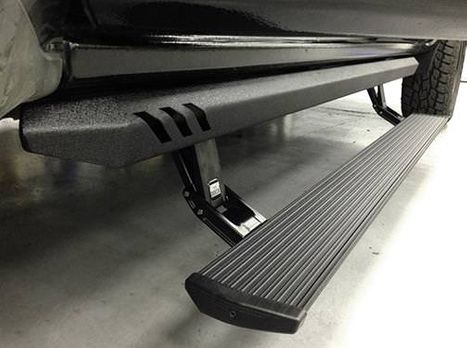 STEP BARS, NERF BARS, RUNNING BOARDS... LET'S SORT THE WHOLE THING OUT
It's simple. Step bars, nerf bars and running boards make it easier for you to get in and out of your truck. And they protect rocker panels and the bottom of doors when you get off the pavement or go off-roading.
Running boards provide a wide stepping base to climb into the cab of your pickup. They start at a minimum of 4 inches in width and can go up to 7 inches or wider.
We sell the AMP Research PowerStep that automatically open and close when you open and shut your door.
Nerf Bars , (also called side steps or step bars) are made for all sizes of trucks including full size, crew cab, super cab, quad cab, king cab, and extended cab pickup trucks. Step bars add style and functionality to your pickup truck. Side steps come in many styles including black, polished stainless steel look and chrome. Sold in pairs, they come in a variety of shapes, styles and sizes including tube steps, oval steps, and even LED lighted nerf steps from 3 inches to 6 inches wide.
Pickup Outfitters will quickly install your steps or running boards without drilling into your truck or SUV's frame or rocker panels.
Different lengths:
Cab Length: runs along the length of your cab and stops right at, or close to, the beginning of your truck bed.
Wheel to Wheel: The step will go from the rear of your front wheel to the front of your rear wheel. Covers the entire length of your vehicle and allows you to step up and reach into your bed.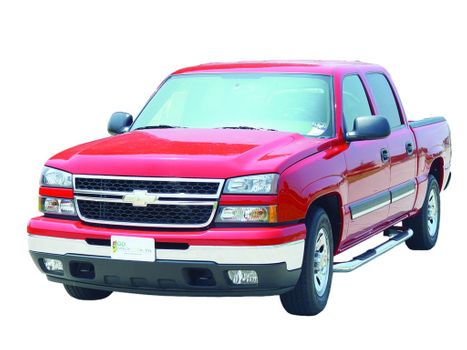 Some of the brands offered by Pickup Outfitters:
Big Country, TrailFX, N-Fab, Aries, Westin, Laverne, Lund, and more!
Do your part to end truck nudity, one vehicle at a time!
Create a commotion with step bars, nerf bars or running boards from Pickup Outfitters of Waco, Texas. Call us at 254 399-9416 or come by our showroom at 220 Lake Air Drive in Waco.