Would you take your tools to a job wearing nothing?
That's a loaded question, but no one likes to see your tools slapping around in your bed. Get organized, add storage space, and protect your truck bed from damage and secure those valuable investments. Get a sturdy tool box for that pickup truck!
TRUCK TOOL BOXES
Nothing says success for a workin' man's truck than a fully dressed bed with a tool box. End bed nudity and dress up that pickup with a tool box from Pickup Outfitters of Waco. Your truck will be the envy of the neighborhood or job site, strutting down the street fully clothed with a new tool box. We have a great selection of tough, U.S. made, reliable storage tool boxes for your truck.
Choose from variety of aluminum or steel tool boxes suitable for a wide range of storage options: crossover tool boxes, chest tool boxes, saddle tool boxes, side mounted tool boxes, under mount tool boxes, low profile tool boxes and topsider tool boxes. We have tool boxes that mount easily in Dodge/Ram, Ford, Chevrolet, GMC, Nissan, and Toyota pickup trucks. All types of tool boxes are available with insulated lids and locks to securely to protect your valuable work tools.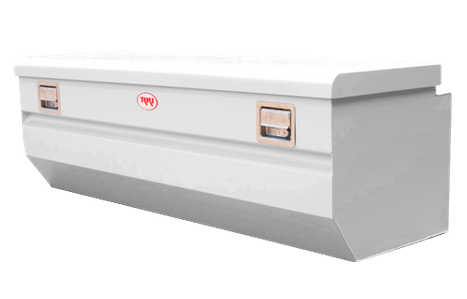 RKI Chest Tool Box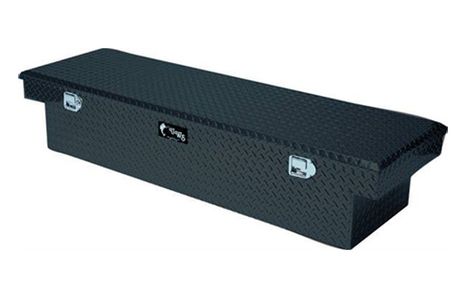 UWS Tool Box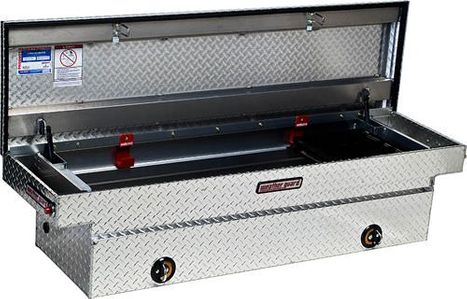 Weather Guard Tool Box
CONTRACTOR & CONSTRUCTION TOOL BOXES
Heavy duty steel tool boxes are a staple for the contractor and builder. You need a box that is well-built, with lot of space to keep everything secure. We carry several types of heavyweight commercial grade boxes, including the rugged RKI brand. These man-boxes can take a beating and still stand tall on any construction job site.
EVERYDAY TOOL BOXES
You don't have to spend a lot of money to outfit your bed with a tool box. We have a good selection of everyday tool boxes for the family handyman. Most run between $300-$500 but some models run for under $300.
TYPES OF TOOL BOXES
Crossover Tool Boxes –a popular tool box available in both steel and aluminum, with or without stainless steel locks for strength and durability.
Chest Tool Boxes – Designed to sit inside the truck bed against the back of the cab, leaving bed rails free for other uses.
Side Mount Tool Boxes – Designed to provide additional tool, equipment and storage space when a crossover toolbox is not enough.
Under Mount– Provides additional tool, equipment and storage space for the contractor under a flatbed truck.
Topsider Tool Boxes – Designed to provide additional tool, equipment and storage space for the contractor when a crossover toolbox is not enough.
Tonneau & Bed Cover Tool Boxes – Need a box to fit under that bed cover? It's not an unreasonable request and you don't have to choose between one or the other. We have several models to choose from.
Gooseneck and Fifth Wheel Boxes – Of course you need some storage space if you're pulling something with your gooseneck or 5th wheel hitch. Let us help you pick the right one out for your situation.
Gull Wing / Double Door – Most boxes come with a single door, but if you need to quickly grab something from the side of the box, consider a double door, "gull-wing" tool box, with a separate, independent lid for each side of the truck.
Bed Slide / Sliding – Pickup Outfitters carries the Bed Slide and Decked sliding drawers for your bed, that allow for easy access storage, plus a rugged surface on top to park your ATV or bike.
BRANDS AVAILABLE
We carry more than a dozen top name brands including RKI, Weather Guard, Husky, UWS, Decked, and Lund.
Do your part to end truck nudity, one vehicle at a time! Create a commotion with rugged, secure tool boxes from Pickup Outfitters of Waco, Texas. Call us now at 254-399-9416 or come by 220 Lake Air Drive in Waco to pick out your new box.