Put a hitch in your get along.... and your pickup!
God created pickups for three very important functions: struttin' your stuff, carryin' stuff, and towing stuff. You take care of the struttin'. Your bed takes care of the carryin'. Your hitch takes care of the towing. As you can see, hitches are important honoring God's creation. And that's why they're practically a religion at Pickup Outfitters. We carry and professionally install…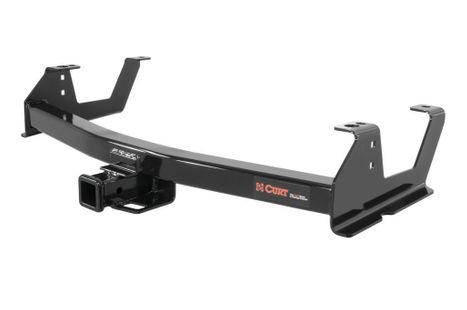 RECEIVER HITCHES
The most popular, and very versatile, hitch that allows you to tow trailers, boats, campers, jet skis, bikes and anything with a receiver. We not only have hitches for trucks, but also Jeeps and SUVs. We install class 1, class 2, class 3, class 4, and class 5 receiver hitches along with accessories like ball mounts, hitch locks and wiring kits.
COMPLETE TRAILER WIRING - We will also professionally wire your vehicle for trailer lights with the appropriate size plug for the trailer you are pulling. All wiring we perform comes with our lifetime installation guarantee. We use only the highest standards and best practices when wiring your vehicle. Will all the computer and monitoring systems on new trucks and SUV's, it's important to have your wiring done correctly. Don't take a chance, let Pickup Outfitters do your wiring!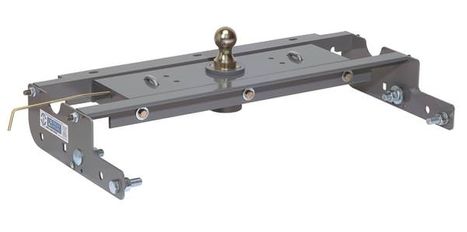 GOOSENECK HITCHES
Gooseneck trailers require a special hitching system; a gooseneck trailer slides over a ball hitch in the bed of your pickup truck. Gooseneck trailers have a tighter turn radius which allows you to turn corners and maneuver the trailer and your pickup in tight spaces. Pickup Outfitters carries and installs gooseneck hitches for almost any make and model truck.
Gooseneck installation requires the proper parts and the proper tools to avoid dangerous towing situations. Gooseneck balls are attached to brackets under the bed that attach to the frame. You cannot just mount a ball in your bed and pull something. The bolts to the brackets attached to the frame must be installed an torqued properly to avoid failure.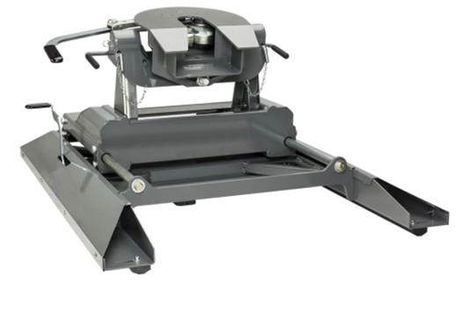 FIFTH WHEEL HITCHES
If you want to tow a fifth wheel trailer, then you need fifth wheel hitches intended for towing heavy loads. Fifth wheel hitches function much like the coupling mechanism of a semi truck or 18-wheeler by attaching to your pickup truck using a hinged plate hitch. Pickup Outfitters of Waco will help you select the correct fifth wheel truck hitch for your pickup and then professionally install your hitch.
Like the goosenecks above, fifth-wheel rails must be mounted to brackets under the bed that attach to the vehicle's frame. Let Pickup Outfitters properly install your fifth wheel to avoid dangerous towing situations.
FLAT PULL / BASE PLATES
What if you want to tow another car behind your RV. Come see us to put a flat pull hitch on that vehicle!
WIRING & BRAKE CONTROLLERS
Don't forget to have proper wiring installed at Pickup Outfitters. From wiring harnesses, to connectors we do it all. We even install wiring and brake controllers. This is something you need to leave to the professionals.
BALLS & BALL MOUNTS
We carry all sizes of ball mount and all diameters for trailer balls including 1 7/8", 2", 2 5/16, and 3".
Need to know what kind of wiring you have? Watch this video to find out!
Pickup Outfiitters has professional trailer wiring installation for all makes and models of trucks, and most SUVs, crossovers, and sedans.
We install only high-quality parts, using proper installation techniques, including splicers, connectors, and wire loom. We DO NOT cut and tape. And we offer a lifetime installation guarantee on all wiring purchased and installed at Pickup Outfitters.
Major brands we carry:
B&W Hitches | Draw-Tite | Curt | Blue Ox | Tekonsha | Husky Towing | Hopkins
A truck in Texas just looks naked without a hitch. Do your part to end truck nudity, one truck at a time! Create a commotion with receiver truck hitches, gooseneck truck hitches, and fifth wheel truck hitches from Pickup Outfitters of Waco, Texas. Why not stop by our showroom at 220 Lake Air Drive in Waco or call us at 254 399-9416.