Streaking in the dark? Add some lights to that truck.
NOTE: Lights are an investment and must be installed properly. Let the professionals at Pickup Outfitters help you choose the right light and install them for you.
There are lots of reasons to add a light bar, some light cubes, or fog lights to your pickup.
Driving down a dark back road is dangerous.
Headlights are wimpy.
People are blind and not paying attention.
Lights look good and you like to look good.
Your truck needs to have lights (Hi-Five lights for truck cabs)
A truck without lights looks naked.
Pickup Outfitters of Waco has a complete line of lights and can professionally install them on your truck: light bars, rock lights, headlights, taillights, fog lights, third brake lights.
LIGHT BARS
The purpose of a light bar is to light up the dimly lit area directly in front of your vehicle and extend illumination at a distance. Truck light bars are perfect off-road, dark road, or dark neighborhoods, or just to look dang good. By installing a light bar on your vehicle, you will be able to brilliantly and safely light the area directly in front of your vehicle.
Pickup Outfitters of Waco has truck light bars in all sizes: from 50" curved light bars that we can mount on to the top of your cab without drilling, all the way down to 10" spot light bars to mount on your bull bar.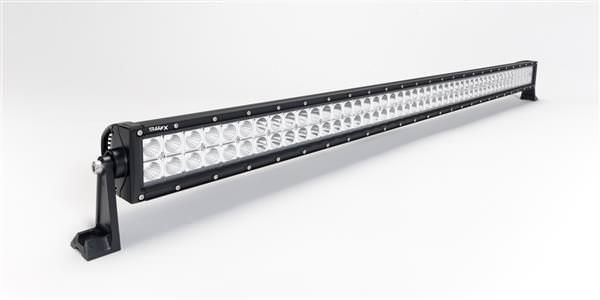 TrailFX Light Bar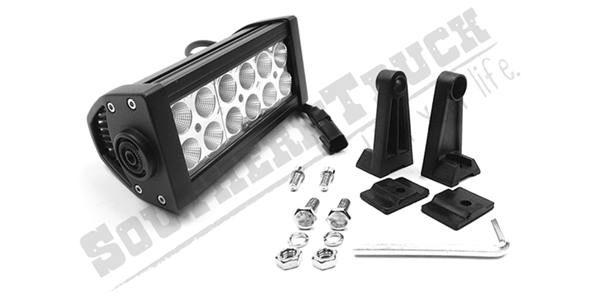 Double Row Light Bar Southern Truck
LIGHT CUBES & FOG LAMPS
Pickup Outfitters of Waco carries an extensive line of light cubes for your pickup truck. Light cubes offer a very flexible option compared to full light bars and provide all the same benefits. They can offer additional brilliant, far-reaching light for driving, off-road trucking or running in the fog. They are smaller in size, easily mountable, and can be affixed anywhere you need to mount them on your truck- hood, cab roof, tailgate or towed trailers. You can even install light cubes for brighter auxiliary backup lighting. Most truck light cubes offer sleek design, low power consumption, more than 30,000 rated hours of usage, and a range of mounting options for your truck.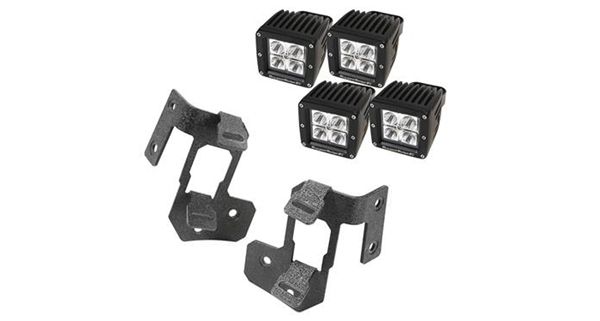 TrailFX Light Bar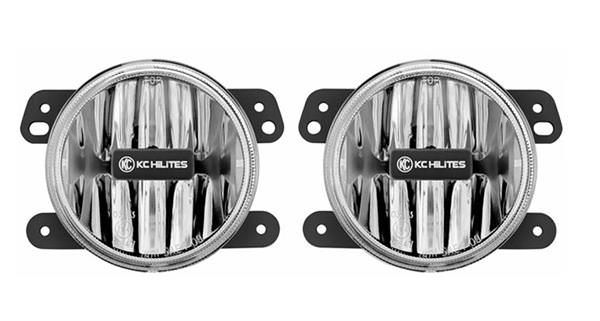 Round Fog Lamps
CAB LIGHTS
Lights aren't just for looking pretty, they're also essential for work trucks. Pickup Outfitters offers professional installation of Cab Lights for trucks, also known as "High-Five" lights. Get them in LED or Incandescent, with amber, clear, or smoke lens. It's important to have your cab lights installed properly to avoid problems while you're driving. Pickup Outfitters has a lifetime installation guarantee on all cab lights purchased and installed with us.
FACTORS TO CONSIDER WHEN PURCHASING TRUCK LIGHT BARS
Truck light bar size. The size of a truck light bar is dependent on where you plan to mount your lights. There are grille and surface mounted truck light bars, full size truck light bars to mount on the cab roof, low profile truck light bars, truck tailgate light bars and receiver hitch light bars. Truck light bars are sold in the various sizes ranging from six to fifty inches in length.
SOME OTHER CONSIDERATIONS WHEN SELECTING TRUCK LIGHT BARS FOR YOUR PICKUP:
Shape of the lights. Another factor to consider is the shape of the light bar. There are three common shapes: round, square, and rectangular. Each light bar shape has a slightly different effect on how the light is projected across the road.
Light beam pattern/angle. Use spot beams if you prefer long-reaching light and will be using your truck light bar for on-road driving. Choose flood beams if you want wide illumination for a worksite or for off-road driving.
Some additional features to consider when purchasing your truck light bars are the light lens colors, the brightness (in lumens) and lamp life (hours), the water resistance of the light bar housing and the connector types. Choose from full light bars, individual flood lights, or any combination of light bars that will work best for your off road vehicle. All light bars come with a mounting kit that includes a wiring harness, mounting bracket/tools, inside operation switch, installation instructions and warranty information.
LED, HID AND HALOGEN LIGHT BARS -OK, WHAT'S THE BEST CHOICE?
Besides the most popular LED light bars, there are two other types of lights that you can add to your truck. Halogen lights and HID lights are also available for truck light bars or spotlight style attachments. Comparing all three, LED light bars shine brighter, last longer, and use less energy than HID or halogen lights. They are relatively lightweight, highly durable, and energy efficient, with an average life expectancy of 25,000 to 100,000 hours of use.
MAJOR BRANDS CARRIED
Rigid, Baja Designs, TrailFX, Westin, Oracle and many more!
Do your part to end truck nudity, one vehicle at a time! Create a commotion with truck light bars and truck light cubes from Pickup Outfitters of Waco, Texas. Stop by our showroom at 220 Lake Air Drive in Waco or call us at 254 399-9416.